Only about 4 people have ever opened this file, kudos if you are reading this. Fiske is a highly ranked but mostly unknown family of spook agents involved in alot of the installation of the new paradigm. I first found out about them bc the name is chiseled into the keystone of the Paw Paw tunnel along the C&O Canal near Harpers Ferry West Virginia. That is an ancient artifact town, an industrial center that helped repair the infrastructure before the repopulation and then bombed to shit during a proxy battle of the Civil War. . There is not much info out there that connects them to any other families or projects or even themselves, so I keep a little log of the places I run across their ugly mugs. This wont make any sense if a normal essay context bc thats not what it is, I will turn it into something more proper when the time is appropriate. Thank you for reading!
fake encyclopedia, Appletons edited with Wilson, tunnel borer and north adams hotel
wright bro plane
C&O Canal,
Charles Bezaleel Fisk (June 14, 1806–Jan. 11, 1866) is the only C&O Canal engineer who served throughout the construction period, being hired as a mere assistant engineer in 1828, rising to the position of chief engineer in April 1837, and leaving the canal in 1852. Fisk's name is on the builders stone in the middle of the berm parapet of the Monocacy Aqueduct, the keystone of the upstream portal of the Paw Paw Tunnel, and the C&O completion obelisk beside the Wisconsin Avenue bridge over the canal in Georgetown on the NW side.
Fisk's name can be found builders stone in the middle of the berm parapet on the aqueduct
Fisk left the company for a six month period from Oct. 1840 to April 1841, when he, along with a number of top company employees, resigned in protest to the excessive use of script. Fisk and most of the others were rehired in Apr. 1841 when Maryland appointed a new canal company president and board of directors and prohibited the further use of script.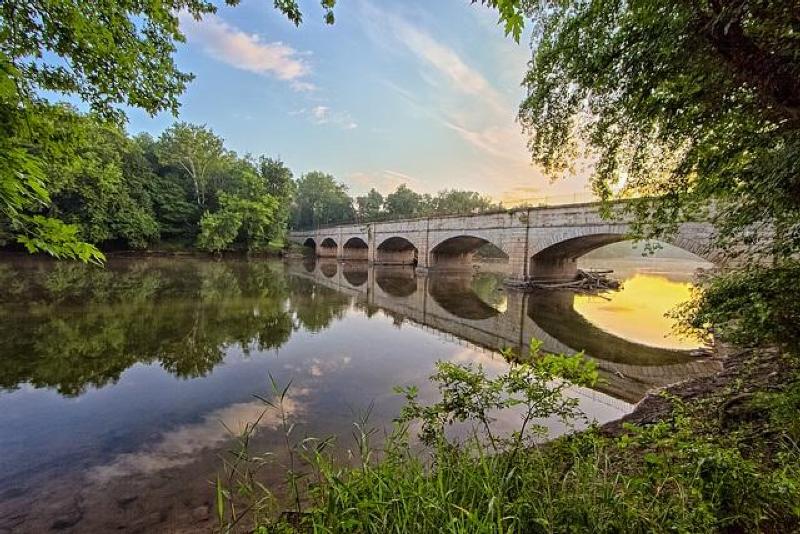 A graduate of Yale with highest honors, Fisk began as a mere assistant engineer in 1828 on the sections from Seneca to the Monocacy. He oversaw the repairs of Dams 1 and 2 in 1833 and oversaw the operation of the operating canal between Georgetown and Dam 3 until 1835 when he was put in charge of the construction between Dams 4 and 5 in 1835. In that year he clashed with senior engineer Thomas Purcell (who resigned shortly after) over the lock foundations.
Fisk is buried in Georgetown's Oak Hill Cemetery in plot Corcoran, Lot 26. After his marriage to Mary Elizabeth Bender, the daughter of Major George Bender, U.S. Army, in 1837, he and his family resided in the District of Columbia. They had eight children, although only two girls survived infancy.
Fake Supreme Court Case
McKenna v. Fisk, 42 U.S. 241 (1843)
Featuring another multigenerational Spook family, McKenna's. The judge ruled in favor of Fisk who was accused of breaking into McKennas store and taking 1,000 gallons of liquor and other provisions while working on the C&O Canal.
Fisk was the defendant in an 1843 case before the U.S. Supreme Court [McKenna v. Fisk, 42 U.S. (1 How.) 241 (1843)]. It concerned a legal technicality that arose in a lawsuit brought against him by Bernard McKenna regarding the destruction and/or removal of property valued at $2,000 and including 1,000 gallons of "spirituous liquors". The action had occurred in Sept. 1839 during a period labor violence in the vicinity of canal construction at the Fifteen Mile Creek, and involved a store or tavern shantee being operated by McKenna. The Supreme Court's opinion was ultimately in Fisk's favor.
Los Alamos Nuke Lab, from nukes to pipe organs in a single bound
Charles Brenton Fisk was a member of the Special Engineer Detachment and technician at Los Alamos. He later became world-renowned for his organ building company, C. B. Fisk Inc.
In February of 1943, Fisk's uncle Joyce Stearns, an American physicist and future Director of the University of Chicago's Metallurgical Laboratory ("Met Lab"), helped him get a job at the Met Lab.
As a lab helper and technician, Fisk interpreted schematic diagrams, soldered materials, and constructed electrical circuits. While he was aware that this was a military job, Fisk was not privy to the fact that he was contributing to the Manhattan Project's atomic bomb construction.
Fisk was transferred to Los Alamos in July 1944. He was a part of Darol Froman's group. One of his main jobs was to solder pre-amps, components within electronic sensors used for testing detonations. The sensors specifically were being used to detect the presence or absence of a spherical implosion.
While Fisk did not understand the necessity of the spherical implosion, it was actually an essential part of the plutonium bomb's design. This new type of design would be employed in Fat Man, the bomb dropped on Nagasaki on August 9, 1945.
After the atomic bombings of Hiroshima and Nagasaki, Fisk realized the implications of what he had been working on at Los Alamos. In a letter sent to his parents on August 12, 1945, Fisk calculated his "share" of responsibility: 'With only two bombs we have killed between 250,000 and 300,000 Japanese people. Divided evenly over the number of people on the project, each member is responsible for the death of four Japanese. I cannot count this as an honor.'
In the letter, he also remarked on his slight feeling of pride: "Despite all the foregoing, there has been introduced into our lives an element of pride, the pride that accompanies the success of a mission." This tension between pride and guilt has commonly been linked to Fisk's decision to leave the world of physics for organ building. 
In 2003 C. B. Fisk built a five-manual organ for the Cathedral in Lausanne, Switzerland, the first American organ to be made for a European cathedral, and in 2010 installed their first instrument in South Korea. In 2012 Opus 139 was completed in the rear gallery of Memorial Church, Harvard University, replacing Opus 46, Charles's landmark instrument of 1967.
mount Fiske sierra Club The first ascent of the summit was made August 10, 1922, (8/10, Aces and Eights) by Sierra Club member Charles Norman Fiske, his sons John Norman Fiske and Stephen Burlingame Fiske, and Sierra Club member Frederick Kellett via the southeast ridge.[7] The first ascent via the class 2 Southwest Ridge was made on August 18, 1939, by Jack Sturgeon, also of the Sierra Club.[8]
Harvey E Fisk- unusal building, nyt
Fisk University at Nashville exhibit at the negro house at the jamestown tercentennial
The "Fisk Free Colored School" was started in 1866 in the abandoned former military hospital barracks (aka Railroad Hospital) located on 12th Street, becoming Fisk University in 1867. One of the original barracks, relocated in 1873, has been used by the university's performing arts department since 1935, known as the "Little Theatre".
The Battle of Nashville
The Battle of Nashville began on 15 Dec 1864 south of the city and away from Fort Gillum. The battle pitted the Confederate Army of Tennessee under Lt. General John Bell Hood, (Cullum 1622), against Union forces under Major General George H. Thomas, (Cullum 1028). General Hood had been a student of General Thomas at the United States Military Academy, received instruction in artillery from him. The Union forces prevailed and the Confederates fell back with heavy losses.
Fort Gillem was abandoned in 1865 at the end of the war and eventually the fort site became a part of Fisk University and some of the fort buildings were used by the school for a time. Fisk University was founded in 1866.
Current Status
The site is now part of Fisk University's Jubilee Hall.
---
USGS Geographic Names Information System (GNIS) Database Entry: 1680783
Board of Indian Affairs 1874
POW Camp Fisk
Fisk tire and rubber
tire and rubber manufacturing with Boston Associates. rubber manufacturing was military technology
David Fiske, prolific author with the New York Almanac that writes fake history of slave trade and civil war era
More John Fiske, along with Wilson. wrote about Gettysburg's Schmucker in Appletons encyclopedia. here
Yellow Eyes,
photo by Frank Fiske 1906.
Yellow Eyes was an informant for Sitting Bull. She joined Sitting Bull at the Battle of Little Bighorn, escaped with him to Canada in 1877 and later returned and surrendered with him in 1881.
She was living on the Standing Rock Sioux Resevation from 1886 until her death in 1905 or 1906. She left Canada when Sitting Bull surrendered in 1881 but went to Fort Peck with some of the warriors, possibly her sons and husband.
Jean Pascal Sebah (1823-86)
Figure Studies from Cairo
Before 1880
Organised tourism arrived in the Middle East when Thomas Cook offered his first Nile tour in 1869. These photographs were made primarily as tourist souvenirs, but they were also a form of anthropological 'inventory'.
Sebah exhibited them in Cairo, where he had opened a studio in 1873, and sold them to the American scholar D. Willard Fiske. Part fact and part romantic interpretation, the images perpetuated the European perception of the Middle East as an 'exotic Orient'.
World Fair Architect
Kingpin
Supervilain from the 60's Spiderman comic books. Has a laser beam cane. Slave name is Wilson Grant Fisk. Wilson connects him back to the Wright brothers flyer.
Fisk stabilizing system tried at Curtiss plant, Hammondsport