Nobody seems to agree on when the bridge was built or how long it took.
Have you ever even seen the images of Richmond taken after the Civil War, not just seen them but really looked? They don't make any sense and don't match the timeline. The timeline says its is only a few years before the French Revolution but its starting to look like they share a lot more commonalities then it first appears.
The city is in ruins, and has been in ruins for who knows how long, long enough for mature trees to grow up in the rubble pile. Long enough for wooden structures and fence to be built around the ruins, and then become dilapidated themselves.
Richmond had a strong canal presence, as I've noticed with just about every city I've looked at with a river running through it. The James river splits Richmond and also like other canaled cities they have been filled in and forgotten. The New Order does not like canals I've noticed, maybe bc they are so old.
This city is in clean up mode, and has been for some time, some of the buildings have already been restored, or at least partially restored. Ground clean-up is being documented. Every single brick is hand moved and carried away by a wagon, you can see them piled up in nice clean stacks. How long does it take to clean up an entire ruined city by hand and wagon?
Matthew Brady is the photographer, we have already busted him out for being the fictional character that photographed the fictional Abe Lincoln, so it is a match.
Like the streets of Hiro and Naga that did not get nuked, they are spotless. All of the surrounding area has been leveled except the Greek Parthenon looking building on top the hill has been saved, this happened with the cathedrals in Europe that escaped bombing raids.
I think there was a war fought in the ruined city, maybe this is what the Civil War here is. Two factions fighting a power grab. There was nobody living here, no rubbish or trash. Sure much brick and stone but no trash. Scorch marks are coming out of some of the window openings but there are no charred timbers or furniture or any kind of wood, this is just like the French Revolution pics that have piles of wooden furniture that are smashed up only for the camera to see, meaning people imported wooden scraps just to make it look like it was there.
There are pics that mirror the famous Crimean War image, The Valley of Death, the one they admitted was a fake bc it was so obvious somebody sprinkled cannonballs all over the road for dramatic effect. Richmond has one too, called the Arsenal building. Nothing at all says arsenal, just a few sprinkled cannonballs and the title written on the negative by a person that never existed. none of the buildings match what they are supposed to be according to his-story books, they made the narrative up later and inserted names, this couldve been anything in any other canaled city.
The Parthenon building has a giant American Flag attached. I'll repeat myself here that those flags are a mark. They are so big and out of place here bc they have been added, sometimes later during development, sometimes at the time of shooting. Those flags subconsciously confirm that the timeline and narrative is correct. Everybody knows what year it is, just count the stars and stripes. Sure.
Hopefully I will be able to return to this thread, I would like to expand but have so much Im trying to finish, I just came across some images and wanted to make them available for right now. I know alot of people wont know what theyre looking at or wy I included some that are just a pile of bricks. Each image has something significant about it, see if you can figure it out and let me know what you come up with.
Images 8 and 9 appear to be the same except one has a hole going through the pointy end of the directional arrow. Whats that all about?
Libby Prison
State Capitol
Oak Wood Cemetary
Railroad Bridge into Petersburg
Monumental Church
Confederate Pyramid in Richmond, Hollywood Cemetery
There aren't any dates specific to when these photo's were taken, they are both housed in the gatekeeper NYPL (New York Public Library). There are no construction photos, the bottom must have been sitting for a long time to have ivy growing up so high, the top image has a person for scale you can see just how high the ivy has grown. My position is the pyramid was built during the clean up period before the repopulation, at which point it was landscaped and blah blah blah. You understand.
The name "Hollywood" is said to be in reference to the holly trees surrounding the park but really its just like the movie makers, Hollywood is talking about the Mystery School druid priests that would cast spells with a wand made from the wood of a holly tree. The cemetery is a big black magick spell with the graves of multiple founding father presidents, Union and Confederate, people that exist only in the public education history books
The history of the cemetery goes back to the 1840's, before the war, however we have established there was no war and the ruins are much older than the timeline permits. It does make it difficult to date things bc every narrative is a loop-d-loop and intertwined together… Here is a snippet from the Ministry of Truth:
In the late 1840's, William Haxall, William Mitchell Jr. and Joshua Fry hired John Notman (architect of Laurel Hill Cemetery in Philadelphia) to design the cemetery in the rural garden style. Its name, "Hollywood," came from the holly trees dotting the hills of the property. Oliver P. Baldwin delivered the dedication address in 1849.
James Monroe was reinterred from New York City to the "President's Circle" section of Hollywood cemetery on July 4, 1858, due to the efforts of Governor Henry A. Wise.
In 1869, a 90-foot (27 m) high granite pyramid designed by Charles H. Dimmock was built as a memorial to the more than 18,000 enlisted men of the Confederate Army buried in the cemetery. It was a project supported by the Hollywood Ladies Memorial Association, a group of Southern women dedicated to honoring and caring for the burial sites of fallen Confederate soldiers.
The placing of the capstone at the top of the pyramid has been a source of legend for Richmonders. The legend states that, as it was nearing completion, no one could determine how to place the capstone atop the lofty 90-foot pyramid. Thomas Stanley, a criminal in the work gang building the pyramid, proposed and executed the solution, which involved a dangerous climb to the top. In retellings, locals say Stanley was freed due to his heroic contribution.The only evidence of this is a note reading "transferred" added to the release box of Stanley's prison schedule. This note could be interpreted as an attempt to obscure the extrajudicial granting of his freedom or that he was simply moved to a different prison or project.
Yorktown
Pratt's Castle
I found this by chance and added it this morning. Pratt caught my attn, anything with their name associated is worth taking a look at. There are some picture attributed to M Brady at the LoC but i recogize the building, it is not called Pratt house nor is this the same image in the brady file, ill see if i can track it down…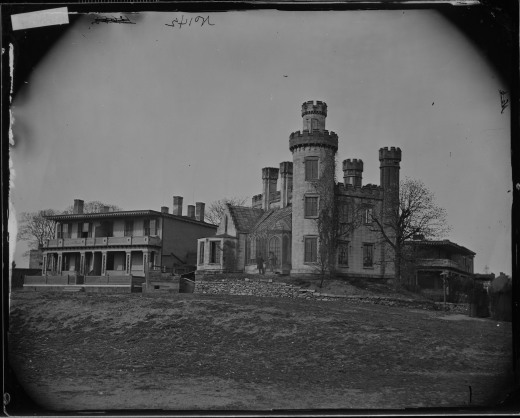 This building with crenelated towers was constructed on Gamble's Hill February 1853 records that the unusual edifice was under construction: This reporter also notes that two "spacious and comfortable" canal boats were being built in the Penitentiary Basin below Gamble's Hill.
A later article in the Times Dispatch from May 1904, the daughter of Mayor Joseph Mayo. All of the extensive art work, silver, china and diamonds were being sold, including, "25 tons of coal, stores of provisions sufficient to withstand a siege of famine …"
In 1958, Ethyl Corporation demolished Pratt's Castle.